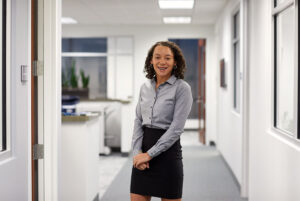 Sydney Covey graduated from CBGS – Glenns/Mathews in 2012 and earned a B.A. in Business and a B.A. in Environmental Studies from Virginia Wesleyan University in 2015. In 2015, Sydney co-authored and published empirical research in the Advanced Management Journal titled "The Relationship Between Managerial Orientation and Productivity: An Examination of Captains from Discovery Channel's Deadliest Catch". In 2017, Sydney was the recipient of the VWU Alumni Council's Graduate of the Last Decade (GOLD) Award.
Currently at STRUCTR Advisors, Sydney applies her knowledge of sustainability and business to provide fresh solutions that embody clients' sustainability goals. Her breadth of experience includes involvement in the Brock Environmental Center, a LEED platinum and Living Building Challenge-certified facility. Sydney has helped to certify over 2.6 million square feet of sustainable building space.
In addition to her comprehensive consulting experience Sydney is a leader within Virginia's sustainability community. She serves on the U.S. Green Building Council Virginia's Market Leadership Advisors Board. She also holds a position on the Elizabeth River Project's Watershed Action Committee and on the city of Chesapeake's Chesapeake Environmental Improvement Council. Her work with Wetlands Watch and their Collaboratory focuses on developing practical approaches to adapting to the impact of sea-level rise on tidal localities in Virginia in collaboration with students and faculty at UVA and the College of William and Mary.
In her free time, you will find Sydney running the trails of Chesapeake with her black lab Koda or playing a round on the golf course!