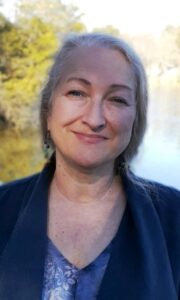 Lisa Lowery has worked as a software engineer for more than 35 years.  Her experience includes integration of the flow of data between various systems, such as Accounting, Warehouse Management, and Electronic Data Interchange (EDI), in various languages and platforms.  Lisa realizes and appreciates that each of her clients represents their own unique way of operating, and business challenges, which allows her the opportunity to explore solutions and grow in expertise in this ever-changing field.
Lisa lives in Topping, VA, with her husband, Phil, and their daughter, Chessa, who is a current student at CBGS.  As a volunteer in Middlesex County Schools, Lisa appreciated the privilege of being able to engage with students as they learned, flourished, and bloomed.  As a CBGS Board Member, she feels blessed to have the opportunity to give back to a program that provides a challenging and enriching educational experience to students in her community.
In her spare time, Lisa enjoys yoga, gardening, playing music, cooking, and spending time with family and friends.