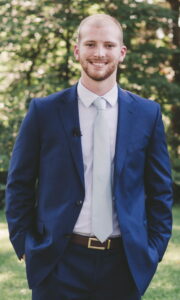 Brandon Ancarrow graduated from CBGS – Bowling Green in 2015. Through Dual Enrollment courses and Chesapeake Bay Governor's School, he earned his associate degree during high school from Rappahannock Community College, allowing him to graduate from the University of Virginia two years early with a major in Media Studies and a minor in Government.
While in college, Brandon helped found Rise Together, a nonprofit focused on providing first-generation college students and low-income youth the skills and confidence to succeed in college. He continues to serve on the board. During his time at UVA, he also acted as Senior Associate Producer for American Forum, a public affairs television program that interviewed national leaders and aired on PBS.
Following college, Brandon stayed in Charlottesville for two years and worked at Carden Jennings Publishing, where he specialized in marketing, video production, and running live/virtual meetings. Mr. Ancarrow is currently the lead video producer at Markel in Glenn Allen, Virginia.
Brandon and his wife Kiera, a fellow Hoo, reside in King William County. When not working or volunteering,  Brandon enjoys kayaking, biking, reading, weight lifting, and playing video games